[/vc_column_text]
Fuller Drive Demo by Simon Gotthelf
Great review of the Fuller Drive in the Tone Report Weekly #186
incl. a Top Tone Award.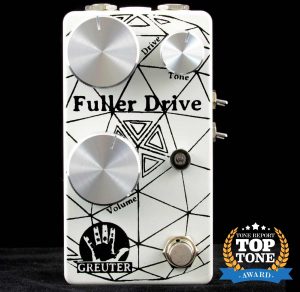 Greuter Pedals are handmade in Switzerland
with high quality components.
Every part is carefully selected, personally matched and biased
to produce the best possible Sound.
[/vc_column]
Greuter Pedals are ready to test in these shops:
LeadMusic

in Genève, Schweiz
Your favourite guitar store doesn't have Greuter Pedals – tell me about it.
Repairs and Modification
I do all kinds of repairs and modifications on microphones and guitar pedals. If have a broken pedal you want to be fixed, an effect which you want to pimp to your needs. Drop me an email or give me a call (+41 44 431 05 32) and we can discuss it.
Unique Custom Made Pedals
Have you ever wished to have a pedal with you name or your personal design on it, or you know someone who would freak out to receive such a personal gift.
I build your personal unique pedal. Tell me what you have in mind.
Greuter Microphones
Since the pedals are going well and I'm busy keeping up the orders, I didn't really had the time yet to develop the Mics any further. There're still prototypes:  a Small Diagraph Capacitor Microphone and a Ribbon Microphone and a few specials waiting to be finished. Come back and see what's new, subscribe the Newsletter, like us on Facebook or just write me an email.
If you want to be updated about what I'm working on at the moment, please subscribe the newsletter or like me on facebook/instagram.